Flandro: Finding new capacity in E&S key to addressing property cat crunch
Howden Tiger's David Flandro has highlighted the need for MGAs to find capacity where others cannot to enable the E&S market to play its role as the home of creativity for hard-to-place risks and address a property cat crunch that has been driven by the most challenging reinsurance market of his career.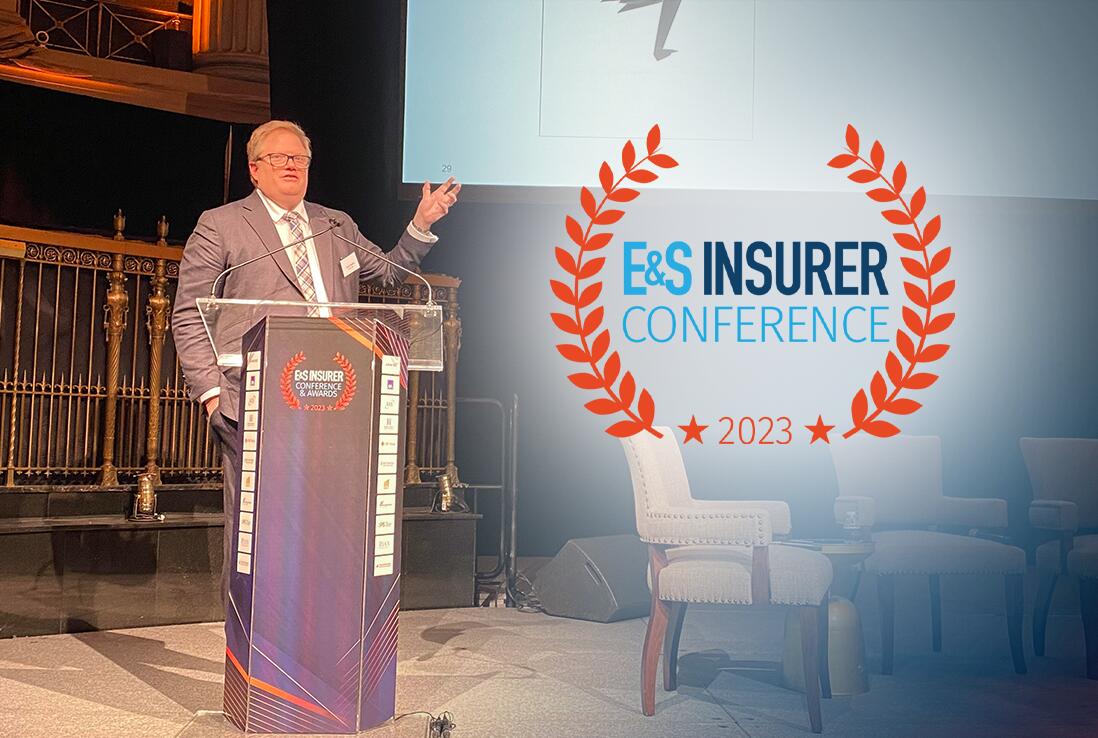 Speaking at the E&S Insurer Conference in New York today, Flandro, head of industry analysis and strategic advisory at Howden Tiger, commented that stability in the reinsurance market has been wiped out in the past four years, while he also predicted a $250bn insured cat loss year will occur in the next decade.
He added: "What we are going through now in the global reinsurance market really is in the most important moment, I think, of my career, and I've been around for a while now. It compares to Hurricane Katrina, 9/11, Hurricane Andrew and the financial crisis, and it's probably even more significant for pricing."
The executive noted the stressful 1.1 reinsurance renewal just gone. He said the last he remembered anything like it was after Hurricane Katrina.
Howden Tiger's property catastrophe risk adjusted reinsurance rate online index went up by 37 percent at 1.1.2023, the biggest increase since Hurricane Andrew and bigger than after Katrina.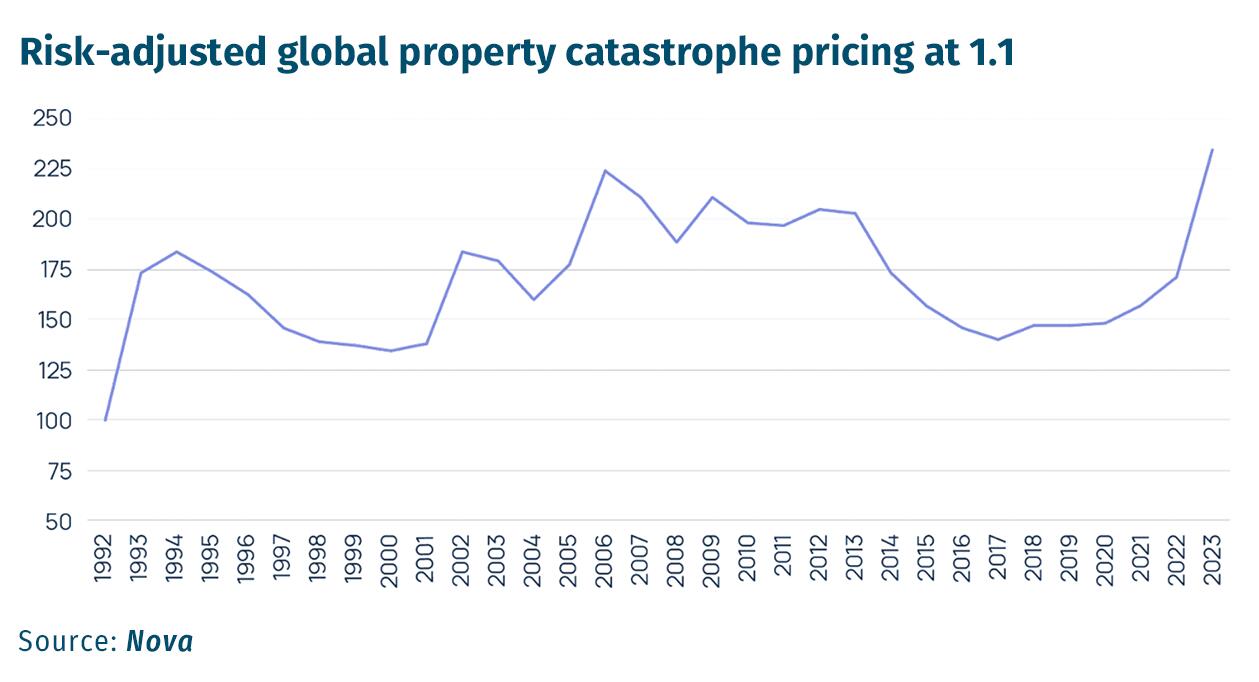 In the direct and facultative market, rates were up by even more, with a 45 percent increase at 1.1.
"We really needed this market because we didn't have a lot of retro capacity in December, particularly collateralized retro capacity," Flandro said. "We needed our D&F rock stars to come in and fill those gaps."
Flandro noted that buyers of cat retro in the last six years have had an "extraordinary" cumulative increase of 162 percent, although this was coming off a low base.
A coalescence of events since 2020
The Howden Tiger executive commented that "the illusion of stability" has been shattered since the start of 2020. A coalescence of events has changed the market completely, he said.
Since then Covid has upended the world, including causing what Howden Tiger believes are upwards of $50bn in insured losses.
Commercial insurance pricing has also increased dramatically during the period. Financial lines, property and casualty have all also seen large increases since 2020, while cyber pricing is up 200 percent in the 18 months to the end of the third quarter of 2022.
Added to this is the uncertainty from the war in Ukraine.
"We don't know exactly what the losses will be from the war in Ukraine - will it be $10bn or $20bn? We don't know. What we do know is that it has heightened risk premia for everybody everywhere, particularly in Europe. It makes share prices go down, it increases the cost of capital," Flandro said.
The industry has also suffered five of the largest 10 catastrophe loss years in the last six years, with much of that coming from perils previously considered secondary perils.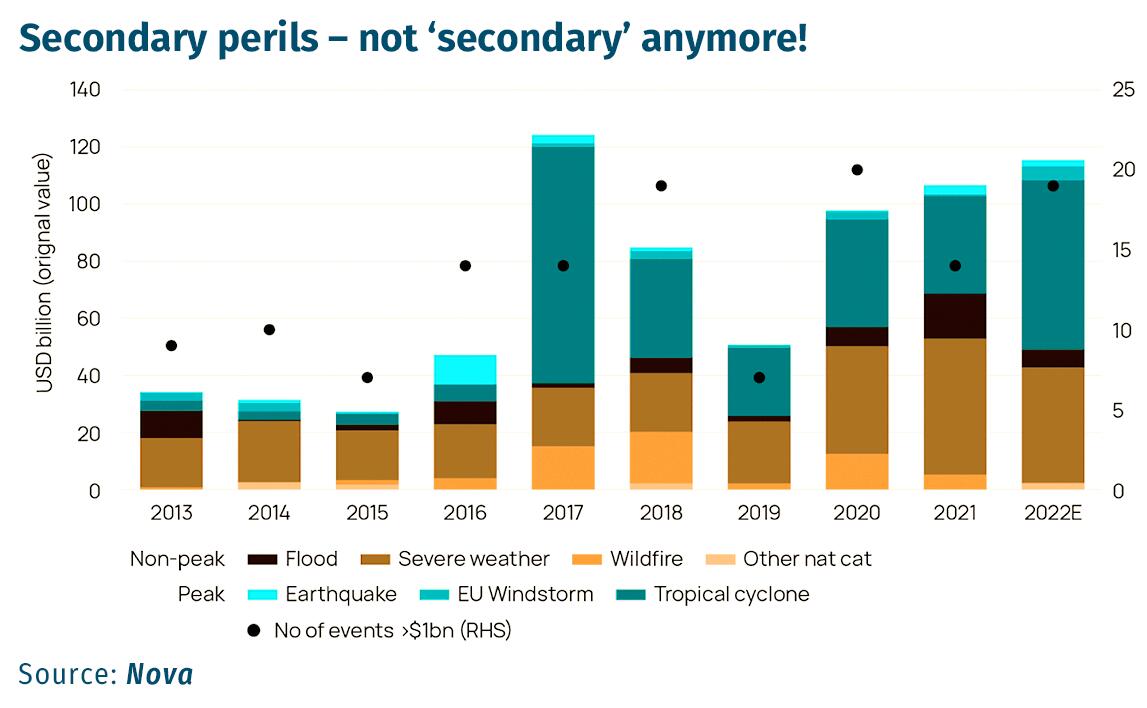 Flandro suggested a $200bn-plus cat loss year will come for the industry in the not-too-distant future.
"I can remember when $100bn was out of the realm of possibility. It seemed so high. With inflation, I'm sure we'll have a $250bn loss year in the next 10 years. I think I can say that pretty confidently. Are we ready?"
In addition, inflation and higher interest rates have also become a reality.
Flandro suggested that dedicated reinsurance capital fell by 17 percent in 2022. The big reinsurance carriers took hits to their shareholders funds.
"Their reported capital fell dramatically and you can't tell me that didn't have an effect on risk premia in the reinsurance market at January 1," he said.
The market has also been contending with Hurricane Ian. Flandro noted this storm was a big E&S event. This also caused rates to go higher.
Bringing all this together, Flandro asked what the industry needs going forward, and suggested the E&S market has a big role to play.
"The industry needs an innovative E&S market. People in this room are very good at product design, this is the home of creativity. This is where hard-to-place risks get placed."
The executive continued that there needs to be a substantial, insurance-dedicated investment banking operation that can bring capacity into the E&S channel. He added that there is a need for MGAs to be able to find that capacity where others cannot to fuel growth in the E&S sector.
In addition, Flandro suggested there is a need for better data analytics and strategic advisory.