RT Specialty's Tim Turner: E&S market change secular not cyclical
Speaking at the inaugural E&S Insurer Conference, RT Specialty chairman and CEO Tim Turner has hailed a "golden age" for excess and surplus lines, and suggested the rapid change in the $100bn+ sector is more structural and secular than cyclical.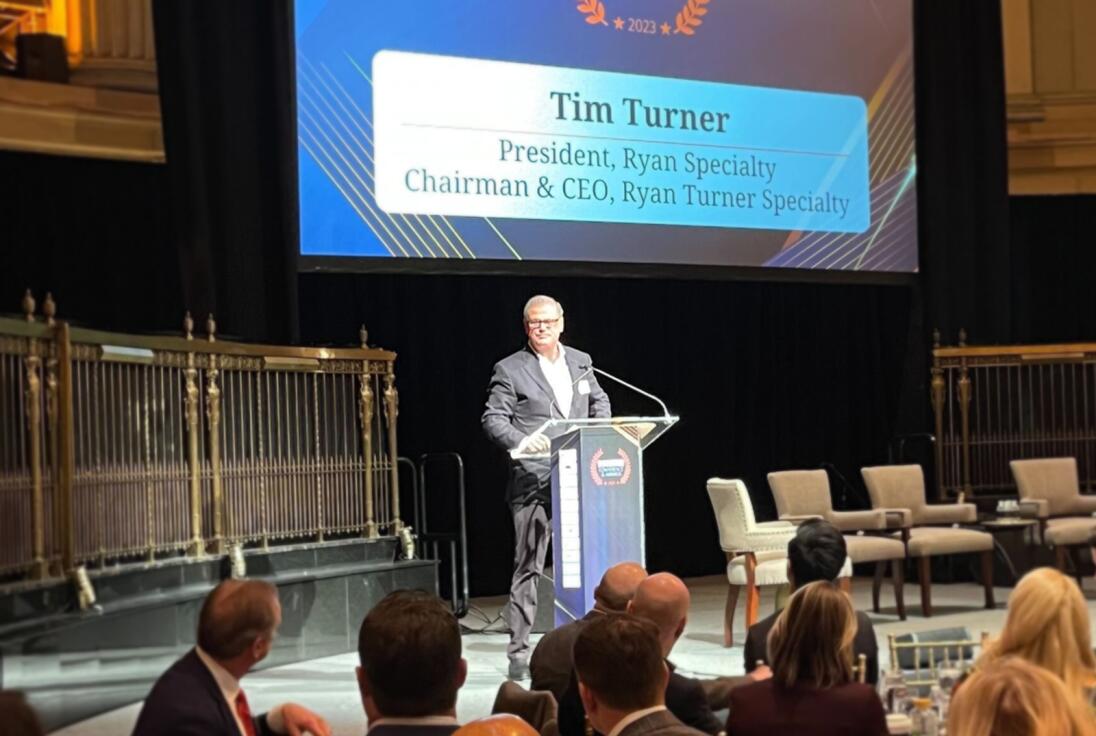 Giving the opening keynote at the conference at Gotham Hall in New York this morning, Turner said: "We really are in the golden age of E&S, there's no question about that. I think everyone here has benefited from that.
"But the responsibility that we have is enormous. And the world counts on us, whether it's here in the US or abroad. Globally now the world is riskier, there's no question – we hear it every day."
Turner suggested the E&S sector has many opportunities to rise to the occasion.
"I really believe that this prolonged firm cycle is just beginning," he said. "These are secular changes and structural changes in E&S, far beyond the cyclical experiences that we've all had over the last two, three, four decades, very different."
Turner noted that the E&S marketplace is well in excess of $100bn in premium now.
He noted this figure does not count the admitted products in the segment that get overlooked, such as workers' compensation and auto, which require rate filings. He added that there is a lot of excess casualty that also gets overlooked in figures.
"So I'll estimate that the market is probably closer to an average $120bn trending that flows into our respective channels here today," Turner said.
The executive commented that breadth and depth has become an important part of the E&S segment. To deliver at the highest level has required the development of data and analysis, which had been lacking in the past 30 years.
"All of the changes have created what we have today, just a mega industry filled with opportunities that all of us here have benefited from," Turner said.
He continued: "To put the scale in perspective the top three wholesalers average $25bn in premium apiece, and a couple of them are much bigger than that. The average has just continued to go up, and it really correlates to the 20 percent increase in flow. Our industry is 20 times bigger than it was 30 years ago, and most of that acceleration came in the last decade."
Turner noted that the E&S segment has benefited from the fact that London brokers "basically threw up a lot of E&S business that came back to the US and that really was the trigger for the hard market that persists to this day".
He said the E&S segment is under great pressure to deliver but suggested there is a great opportunity. He predicted more investment in risk-bearing hybrid platforms will emerge.
"There are opportunities for those that have the capital, those that have the commitment, those that have the vision to build facilities. That's what our retail brokers need. They want us to build more facilities and deliver faster and more concise solutions for them," Turner said.
He added: "So, again, there's no question, this is not a cyclical moment in our industry. It's very different than the last three, four or five cycles. It's structural, it's secular, and it's impacted businesses in America from top to bottom."
Turner said the E&S market can elevate the execution of all the spaces in which it operates. He highlighted small commercial as a "tremendous" opportunity.
"We all know the insurtech industry wants to eat our lunch," Turner said. "Thank goodness it's a little more complicated than they thought. So it's up to us to embrace that, to integrate that and to be faster and more efficient for our retail clients in small commercial."